Call to Speak to a Nurse Now
Working with excellent people that provide excellent care to their patients
Danny's home health is thee best home health agency in the community because the clinical staff they have really provides the best care available.
Danny's Home Health Care provided the best of care to my mother who I was really happy with their services. I would definitely recommend them again to all my family members, friends, and primary care physician. Thanks to Rita Kassab, who went out of her way for my family, she actually showed her love and dedication at 1030pm late evening. I didn't expect that much but they have proved me which I will forever be thankful. Not only that the physical therapist who helped my mother was beyond amazing, she can walk again which was the prayer we asked for.
High quality service
Danny's home Health has the highest quality service that an agency provides because the Clinical staff they have are beyond skilled and knowledgeable for a patients plan of care. I highly recommend using Danny's Home health care.
professional
Danny's Home Health Care of Glendale is the most amazing agency I could ever place a review of because they have the most compassionate nurses and therapists around who actually care of a patients outcome. I highly recommend using them.
I was so happy that I could find such a wonderful and caring group. From the minute I spoke to them right though all my appointments they were the best! The therapist that came to my home was professional kind and caring. She gave me so many good ideas as well as helping me through my therapy
Great services
Nice service with quality people
Check Out Our Proven Clinical Outcomes!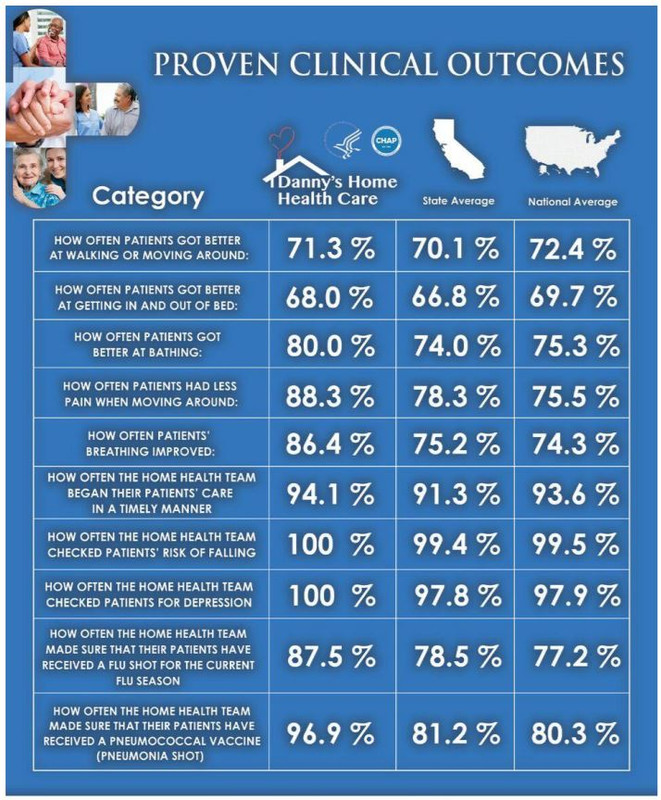 Home Health Care Provider in Los Angeles
Danny's Home Healthcare is a CHAPS-accredited, CMS-certified home health care provider operating in Los Angeles and the surrounding areas. We carefully select each of our caregivers for their integrity, clean background, and experience. When you choose to work with us, you'll benefit from our can-do attitude and dedication to making a positive impact on your situation. As a locally owned and operated business, we recognize the importance of building lasting relationships with each of our patients.
We're available Monday - Friday, 8:30am - 5:00pm. If you need our assistance on a weekend, we'll be glad to accommodate. We're prepared to offer:
General home care
Private nursing
Occupational therapy
Speech and language disorder therapy
If you're interested in finding a home health care provider in Los Angeles, Danny's Home Healthcare is a great choice. Contact us today, and you could be enjoying some peace of mind knowing that your loved one is safe.
Now Accepting Clients with Medicare. Call Now For a Free Consultation.
Hours
| | |
| --- | --- |
| Mon - Fri: | |
| Weekends: | By appointment |
Message Sent. Thank you for contacting us. We will be in touch with you shortly.
Send A New Message
Share Us With Your Friends and Family
Contact
Danny's Home Healthcare
1539 Sawtelle Boulevard
Penthouse Suite 22
Qualifications
CMS Certified Provider
CHAPS Accredited